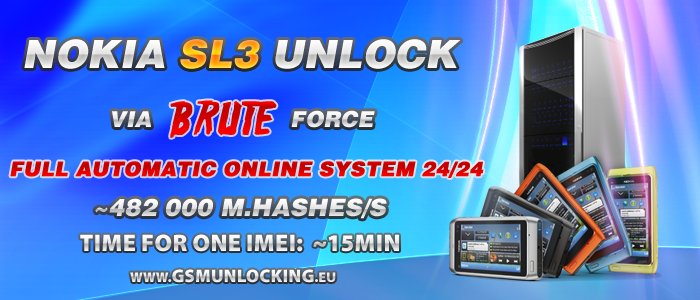 Make order now and take codes in 15 min !!!
All systems are fully automated and works 24/7. Just place a log file via our site and after several hours you will receive an unlock code.
We ar working on MSM SL3 Cloud system!
Accounts:
1log: 10eur
5 log: 47,5eur (9.5e/phone)
10 log: 90eur (9e/phone)
50 log: 425eur (8.5e/phone)
more: contact...
After payment you will get login and password for MSM Cloud System and you will submit imei & hash by your own.
Online queue timer:
http://servmg.com/en/hcloud/timer-queue/11E/
Here you can check time to end your code:
Martech Service Manager
Warranted Time for Calc one log: 15 min - 12h
Contact: Sonork: 100.1607379 Mail:
info@gsmunlocking.eu
Payment: Paypal