First of all, this is 100% normal for AdvanceBB5 and AdvanceUFS.
Secondly, you can lessen the "waiting time" by unchecking "Auto Detect TP"
on the right side of the Software.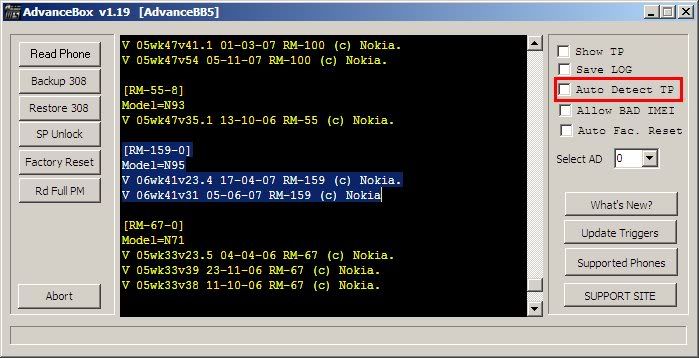 When "Auto Detect TP" is unchecked, the software will no longer wait for
you to properly connect the Test Points to the phone's PCB. The software
will automatically enter "Unlocking Mode" and Loop this operation for 5
consecutive times until the phone is unlocked.
This option is usefull for N95 phones because we noticed that it takes maybe
2-7 seconds before the software will detect that the TP has been properly
connected on the N95 PCB. Because of this, some users became confused
on why the software is not detecting that the TP has already been connected
properly.
It is my suggestion that if you want to remove the "waiting period" before
the software will detect the TP on the N95 phones, you should therefore
uncheck "Auto Detect TP".
Since the unlocking process will Loop 5 times, there will be enough time
for you to connect the TP to the N95 PCB even without Auto Detection.
I also strongly suggest that if you notice some FBUS connection instability,
you should remove the LCD and the Camera from the N95 PCB.
For AdvanceUFS users, removing the LCD and Camera as well as connecting
an ACP-8x charger is a requirement for unlocking N95 phones.
Best Regards,
X-Shadow