Oppo A83 cph1729 password pattern pin Disable all lock withoutdata loss done by Avator_Pro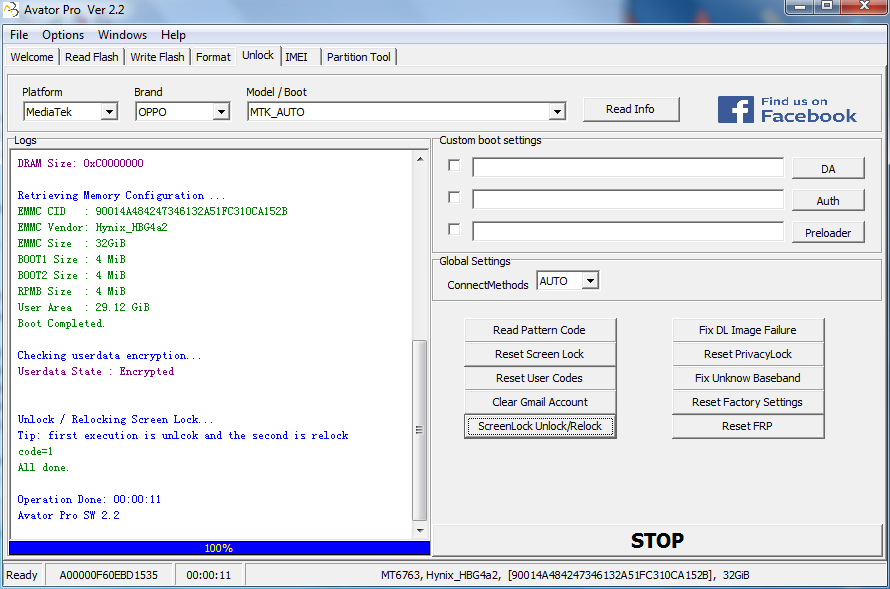 Operation : ScreenLock Unlock/Relock
Brand: OPPO
Model: MTK_AUTO
Hint:Power off phone, Insert usb cable
(Connecting 'BROM Mode' Hold Bootkeys)
scanning usb device...
Phone found: MediaTek USB Port (COM8)
A thread is created to handle new usb connection, pls wait...
Any errors please select another boot and try again.
SoC: 6763 [MT6763], SW: 0001, HW: CA01
BL Ver: FE; Indicate: 000000E5
Loading boot...
INT_SYSRAM_BOOT test completed.
Any errors manually select "ConnectMothods" and try again
Connection type:brom
Configuring DRAM...
Waiting for DRAM detection...OK
Sending 2nd DA ...
SYNC... OK
2nd DA...OK
Retrieving RAM Configuration ...
SRAM Size: 0x40000
DRAM Size: 0xC0000000
Retrieving Memory Configuration ...
EMMC CID : 90014A484247346132A51FC310CA152B
EMMC Vendor: Hynix_HBG4a2
EMMC Size : 32GiB
BOOT1 Size : 4 MiB
BOOT2 Size : 4 MiB
RPMB Size : 4 MiB
User Area : 29.12 GiB
Boot Completed.
Checking userdata encryption...
Userdata State : Encrypted
Unlock / Relocking Screen Lock...
Tip: first execution is unlcok and the second is relock
code=1
All done.
Operation Done: 00:00:11
Avator Pro SW 2.2
WBR
___________
modern-mobile