We are excited to inform you that DHRU Version: 5.1 RC8 has been Released. To update your server, Click. Help > SelfUpdate to update / Manual upgrade required.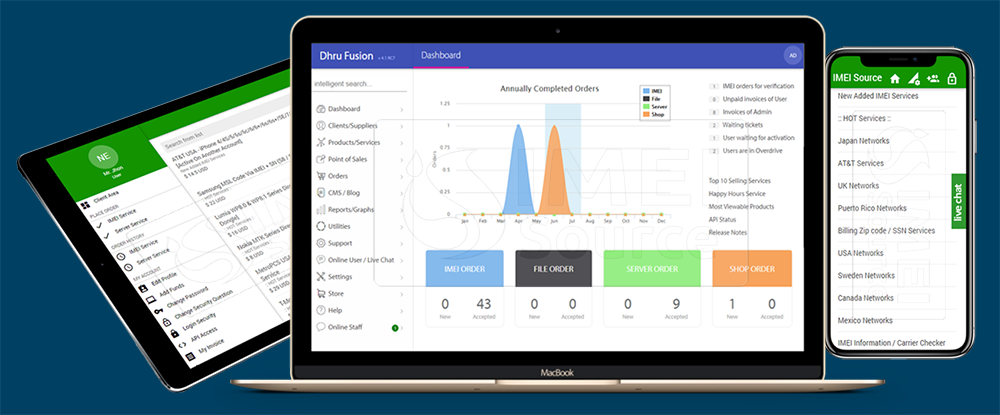 On RC 5.1 RC8 New Features Implemented.
Features added from request
Intelligent Search query should be sorted the active services 1st
SMS Log and Download Log should be newest first.
Username should be shown as available users on quick reply pages.
Need Order ID on Quick Reply and Manual Reply page.
Old Server Services need to show in user area.
Server Services showing only 4 services in Intelligent search, should be maximum 10 services.
Admin ticket should be open in new tab instated of popup.
Fixes
custom fields showing when order accept in supplier panel
Changing Offline Gateway will hide the selection of Offline Gateway
Page Index content Bug while clicking the save button with another language.
Mail chimp sync fail
View Previous versions and changes:
DHRU Version 5.1 RC7 Has Been Released.

DHRU Version 5.1 RC4, RC5, RC6 Has Been Released.
See Also:
[Discussion] Buy DHRU License + Complete Unlock Server - Authorized Distributor
BUY From:
https://www.imeisource.com/productsa...&parentid=1006
We are Authorized Distributor of DHRU, if you need any assistance of DHRU sales query, feel free to contact Skype: imeisource